With oil, natural gas, coal, and gasoline at the highest prices in eight years, we consider if there is an energy crisis due to an over-reliance on renewable energy sources.
Topics covered include:
How high have prices risen for oil, gasoline, natural gas, and coal
Why rising energy prices is a multifaceted problem as illustrated by coal
How the global energy mix has changed for power production
Why investment capital is flowing to renewable energy projects rather than fossil fuel projects
Why a clean energy transition leads to more volatile fossil fuel prices
How higher oil prices lead to greater adoption of electric vehicles
How renewable energy combined with battery technology will create lead to energy on-demand solutions
Show Notes
US coal prices jump to highest level since 2009 by Myles McCormick—Financial Times
China's Energy Crisis Complicates Its Plans for Climate Announcements Ahead of COP26 by Sha Hua and Keith Zhai—The Wall Street Journal
China's Coal War With Australia Fuels Shortage at Home by Chuin-Wei Yap—The Wall Street Journal
China's Coal Shortage Threatens Farmers in India and Truckers in South Korea by Jiyoung Sohn in Seoul and Vibhuti Agarwal—The Wall Street Journal
President Jimmy Carter – Report to the Nation on Energy (Video)
Share of renewables, low-carbon sources and fossil fuels in power generation, World 1990-2019—IEA
Oil 2021: Analysis and forecast to 2026—IEA
Statement on recent developments in natural gas and electricity markets—IEA
Renewable energy firms warn of difficult conditions amid slow winds by Jasper Jolly—The Guardian
Global EV sales rise 80% in 2021, as automakers including Ford, GM commit to zero emissions: BNEF by Robert Walton—Utility Dive
In 1900, Ladies' Home Journal Publishes 28 Predictions for the Year 2000 by Josh Jones—Open Culture
Here's what's in the infrastructure bill that Biden signed today By Emily Cochrane, Christopher Flavelle, and Alan Rappeport—The New York Times
Battery Storage in the United States: An Update on Market Trends—U.S. Energy Information Administration
Metals may become the new oil in net-zero emissions scenario by Lukas Boer, Andrea Pescatori, Martin Stuermer, Nico Valckx—Vox EU, CERP
Episode Sponsors
Egnyte – Mission Control for Critical Content
Become a Better Investor With Our Investing Checklist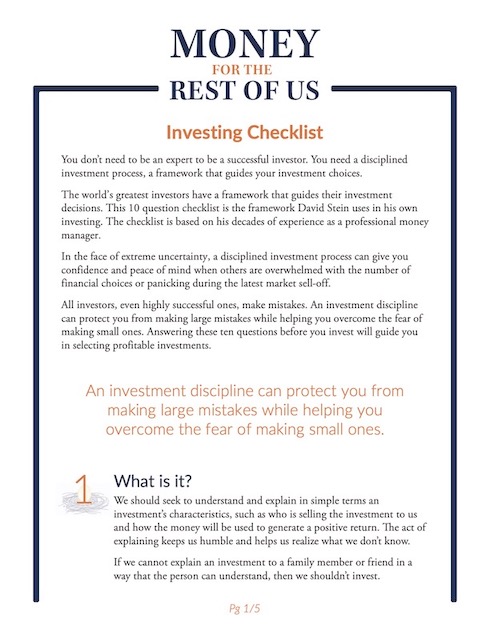 Become a Better Investor With Our Investing Checklist
Master successful investing with our Checklist and get expert weekly insights to help you build your wealth with confidence.
Related Episodes
346: Should You Buy an Electric Car or Truck?
What You Need to Know About Carbon Investing and its Effect on Climate Change
Transcript
Welcome to Money For the Rest of Us. This is a personal finance show on money, how it works, how to invest it, and how to live without worrying about it. I'm your host, David Stein. Today's episode, 366. It's titled "Is there a global energy crisis?"
High Fossil Fuel Prices
LaPriel and I have been traveling across the U.S. for the past six weeks. I typically don't pay much attention to the price of gasoline, but we've been going to the gas station a lot, and I've noticed that gas is over $4 a gallon for premium. We saw some gasoline stations where gas was over $5. There's been times when gasoline has been so expensive that I just decided not to use premium, even though our car says we should.
We are seeing the highest gasoline prices since 2014. We're seeing the highest natural gas prices since 2009. Heating oil is at its highest price since 2014. West Texas Intermediate Crude Oil prices, at $78/barrel, are the highest since 2014. Even coal is participating in this run-up in energy prices. The spot price of coal jumped more than $10 last week, to close to $90 per short ton, the highest level since 2009. The IEA reports that European electricity prices have climbed to their highest level in over a decade.
In the U.K, where wind energy provides 60% of energy needs, they're seeing very high electricity prices, as power providers are having to turn to burning natural gas and coal.
The 1970s Energy Crisis
Are we seeing another energy crisis, like we experienced back in the '70s? I don't remember much about the 1970's energy crisis; I was in grade school. The winter of 1976–1977 was very, very cold. I was attending St. Margaret Mary Parochial School. We combined all the classes and moved them to the gym, put up dividers, and then they closed off half the school. They lowered the temperature, we were wearing our coats in school, all packed together.
Around that time, Jimmy Carter, newly elected U.S. president, gave a speech wearing a cardigan in front of a wood-burning fire, to introduce his national energy policy that would focus on conservation, researching renewable energy, tapping coal reserves in an environmentally sound way. He said that Americans needed to face the facts that the energy shortage is permanent and that we needed to make modest sacrifices, learn to live thriftily. Is today similar?
As a Money For the Rest of Us Plus member, you are able to listen to the podcast in an ad-free format and have access to the written transcript for each week's episode. For listeners with hearing or other impairments that would like access to transcripts please send an email to [email protected] Learn More About Plus Membership »