How do non-fungible tokens work, what are the risks, and how do NFTs fit within the landscape of investments.
Topics covered include:
Investing in physical art versus cryptoart
How NFTs work on the ethereum blockchain
How Ethereum differs from Bitcoin
What is the purpose of investing and are NFTs investments
How much energy do cryptocurrencies and the financial system consume
What are the risks of NFTs
Show Notes
Want to Buy an NFT? Here's What to Know by Amber Burton—The Wall Street Journal
From Crypto Art to Trading Cards, Investment Manias Abound by Erin Griffith—The New York Times
NFTs, explained by Mitchell Clark—The Verge
HERE IS THE ARTICLE YOU CAN SEND TO PEOPLE WHEN THEY SAY "BUT THE ENVIRONMENTAL ISSUES WITH CRYPTOART WILL BE SOLVED SOON, RIGHT?" by Everest Pipkin
39% of PoW mining is powered by renewables – Cambridge University Cryptoasset study by Gareth Jenkinson—The Daily Chain
Cambridge Bitcoin Electricity Consumption Index
Bitcoin Energy Consumption Index—Digiconomist
Ethereum Energy Consumption Index (beta)—Digiconomist
The Bitcoin vs Visa Electricity Consumption Fallacy by Carlos Domingo—Hacker Noon
How much would you pay for a virtual sofa? by Anne Quito—Quartz
The Wisdom of Finance: Discovering Humanity in the World of Risk and Return by Mihir Desai
Techno-optimism, behaviour change and planetary boundaries by Adair Turner—Keele World Affairs Lectures on Sustainability
Episode Sponsors
Become a Better Investor With Our Investing Checklist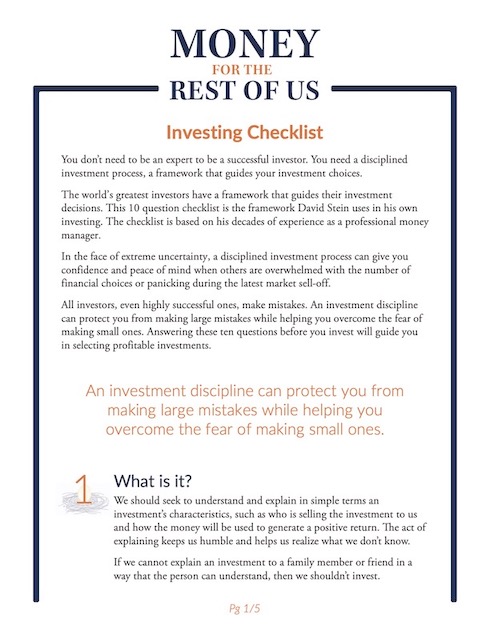 Become a Better Investor With Our Investing Checklist
Master successful investing with our Checklist and get expert weekly insights to help you build your wealth with confidence.
Related Episodes
167: Is Bitcoin Better At Money Than The Dollar?
182: Was Tulipmania Just Like Bitcoin?
228: How Tokenization Will Radically Change Investing
339: How To Make Money with BlockFi, Dai and the Evolving DeFi Ecosystem
355: Which Money Is Crazier: The U.S. Dollar or Bitcoin?
Transcript
Welcome to Money For the Rest of Us. This is a personal finance show on money, how it works, how to invest it and how to live without worrying about it. I'm your host, David Stein. Today's episode—335. It's titled "Are non-fungible tokens (NFTs) a good investment?"
When I was an institutional investment advisor, I had a number of clients in New Orleans. I spent a lot of time there. Typically, I'd fly in the night before, have a good meal in the French Quarter, and then I would often visit some of the art galleries that were in the area.
Buying Art
There was one particular artist that really stood out. Her name is Isabelle Dupuy. She's from France but lives in the States. I was really impressed with her paintings of poppies and other flowers. It was very three-dimensional art. About three years ago I wanted to hang a painting over our couch in the living room. I have never commissioned a piece of art before. But I sent an email to her, and she agreed to paint LaPriel and me a painting. It's about eight feet. It's a field of poppies and other flowers. It was actually quite reasonable. I think we paid $8,000 for this painting.
She asked questions on what we wanted, to guide her as she worked. She sent updates on how the painting was progressing, little by little, with pictures. It was a fascinating process. We still have the painting. It's kind of a pain to move as we move from house to house. It doesn't actually weigh that much. I didn't really think of this as an investment. It was something that was beautiful, that we enjoy, that we look at.
Art can also be thought of as an investment. I have spoken about Masterworks, which has sponsored this show, and I own a very small fraction of Monet's 1881 painting Coup de vent, which I bought through Masterworks. I also like this painting, because it reminds me of taking my daughter to France when she was nine, and we visited the coast of Normandy. That's what this painting is of. The poppy fields also remind me of our visit to France.
In the case of this Monet painting, I've never seen it in person. I own a very, very small fraction. This is more of an investment. Masterworks estimates that the painting is worth 7% more than what I paid for it, at least my little bit of it.
Ethereum
In 7–8 years, Masterworks will sell the painting, and I potentially will earn a return. Now, I'm trusting the Masterworks platform. They have documentation that I own a portion of this work. Originally, when Masterworks started, they were going to put these ownership records on the Ethereum blockchain. The paintings would be tokenized assets, a topic that we discussed back in episode 228, where a physical or digital is linked to a token that is stored on a decentralized, open-sourced blockchain. A distributed ledger. That's what Ethereum is. This is a network that launched in 2015.
Ethereum is the second-largest cryptocurrency outstanding, as measured by market capitalization. It sells for much less, about $1,800/coin, and the coins themselves are called Ether. Whereas Bitcoin is close to $60,000. With Ethereum you can actually have what are known as smart contracts, metadata that is connected to the particular coin, and I'll talk about this process more in a few minutes.
But for now, just know that Masterworks originally designed their platform to work in conjunction with Ethereum. But they had too many problems with the U.S. Securities and Exchange Commission as to whether this is a security that they're selling, and how would it be regulated, or should it be regulated. And they decided to rebuild it off the blockchain, and then each particular piece of art is its own security that is registered with the SEC.
As a Money For the Rest of Us Plus member, you are able to listen to the podcast in an ad-free format and have access to the written transcript for each week's episode. For listeners with hearing or other impairments that would like access to transcripts please send an email to [email protected] Learn More About Plus Membership »