What are the pros and cons of the four approaches to managing retirement savings. How to implement a bucketing or time segmentation retirement investing approach.
Topics covered include:
Why it takes time to find a retirement pattern that fits
How retirement investing is a balance between safety-first and probability-based as well as maintaining optionality and committing.
How total return investing differs from a safety-first approach
What are products allow for a risk floor but also provide some potential growth
How a time segmentation or bucket approach to retirement investing works
Show Notes
Retirement Planning Guidebook: Navigating the Important Decisions for Retirement Success (The Retirement Researcher Guide Series) by Wade Pfau
A Model Approach to Selecting a Personalized Retirement Income Strategy by Alejandro Murguia and Wade D. Pfau
The Four Approaches to Managing Retirement Income Risk by Wade D. Pfau
Build Ladders With iBonds® ETFs—iShares
Episode Sponsors
Become a Better Investor With Our Investing Checklist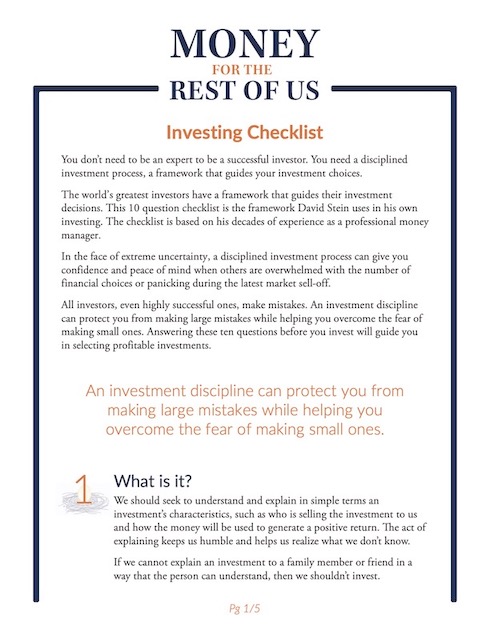 Become a Better Investor With Our Investing Checklist
Master successful investing with our Checklist and get expert weekly insights to help you build your wealth with confidence.
Related Episodes
279: Why All Retirees Should Consider an Income Annuity
306: Three Approaches to Asset Allocation
326: The New Math of Retirement Spending and Investing
437: How to Live Like You Are Already Retired
Transcript
Welcome to Money For the Rest of Us. This is a personal finance show on money, how it works, how to invest it, and how to live without worrying about it. I'm your host, David Stein. Today's episode, 371. It's titled, "Find your retirement investment and retirement living style."
Newly Retired
Ten years ago, in April 2012, I left full-time employment as an institutional investment advisor. I retired. Retired in the sense I could choose what I wanted to do with my life. I could get up when I wanted, I didn't have to answer to clients or business partners. And it's amazing. It's been ten years. That's half the time I actually spent working full-time, which lasted 20 years. Right after I quit my job, I launched an investment education website at jdavidstein.com. Then I shut it down a few weeks later. I launched a different website. I decided I didn't want to use my name on the URL, so I launched Next40years.com. I shut that down a month or so later. Later that year I launched 401kSecondOpinion and IRASecondopinion.com as a sort of a robo-advisor-like service. I shut those down, all that in the first 13 months as I tried to figure out "What am I gonna do with the rest of my life?"
During that period we spent three months traveling with our three children in Asia and Europe. I didn't really plan very well when I entered retirement. I knew I liked online business, that I wanted to do something in my own name, build websites, write, do video, but I also didn't want a commitment, in that I had to show up at a specific time, in a specific day.
In the summer and fall of 2013, I began learning to program websites. I started training futures, I got involved in Bitcoin, I continued to write, to do photography, although much of my writing was not investment related. I launched a website silencelikethunder.com and an email newsletter. I wrote an eBook. I was exploring many different things, and that's what I've found—when one retires, it does take time to identify a pattern. What works? What do you like to do? It's an opportunity to try things.
In early 2014 I began writing a personal finance column for a local newspaper and slowly began getting involved in teaching investing because that's what I missed about my old job. In May 2014 I launched the Money For the Rest of Us podcast.
During the past decade, all three of my now-adult children have worked for Money For the Rest of Us on a part-time basis. Two of my children still do, and that has been incredibly rewarding. Now I had a pattern of retirement, at least for this phase, what I have done over the past decade. There's a routine. I don't like to set an alarm clock, except sometimes I do when I need to get up early to go fishing. But even then, I don't really like to. So I typically wake up anywhere between 5:30 AM and 7:00 AM, unless I happen to wake up in the middle of the night, get some insomnia, and then I'll go about reading or doing something else like they did back in medieval times with the first sleep and the second sleep.
As a Money For the Rest of Us Plus member, you are able to listen to the podcast in an ad-free format and have access to the written transcript for each week's episode. For listeners with hearing or other impairments that would like access to transcripts please send an email to [email protected] Learn More About Plus Membership »