How to create and sustain a life of freedom and happiness that you don't want to retire from.
Topics covered include:
What are the physical and mental aspects of living like you are already retired
What is the good life, and what are the basic goods that contribute to it
How we handle time is the key to the good life and living like we are already retired
Show Notes
How Much is Enough? Money and the Good Life by Robert Skidelsky and Edward Skidelsky—Penguin Random House
Cormac McCarthy Had a Remarkable Literary Career. It Could Never Happen Now. by Dan Sinykin—The New York Times
Soloing: Realizing Your Life's Ambition by Harriet Rubin—HarperCollins
Saving Time: Discovering a Life Beyond the Clock by Jenny Odell—Penguin Random House
An Early Resurrection: Life in Christ Before You Die by Adam S. Miller—Deseret Book
Four Thousand Weeks: Time Management for Mortals by Oliver Burkeman—Macmillan Publishers
Episode Sponsors
Money Pickle – Schedule a free 45-minute video chat with a vetted financial advisor and ask them anything about your financial situation. Go here to schedule your free session.
Use code MONEY10 to get 10% off on your NAPA Autoparts online order.
Become a Better Investor With Our Investing Checklist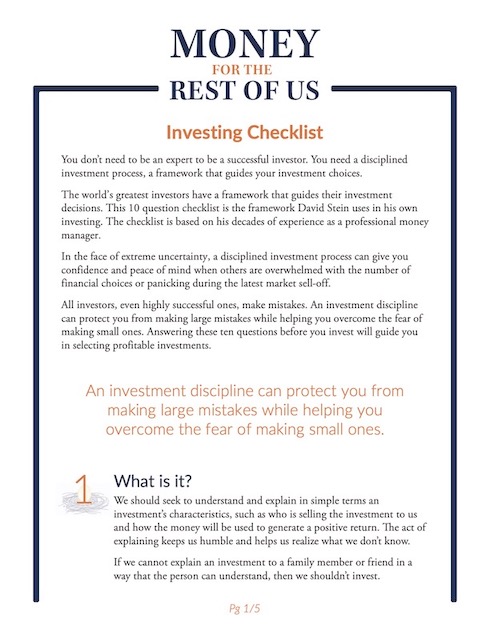 Become a Better Investor With Our Investing Checklist
Master successful investing with our Checklist and get expert weekly insights to help you build your wealth with confidence.
Related Episodes
19: Live Like You're Already Retired
371: Find Your Retirement Investing and Living Style
438: Why Are You Investing? Defining Your Rich Life with Ramit Sethi
Transcript
Welcome to Money for the Rest of Us. This is a personal finance show on money, how it works, how to invest it, and how to live without worrying about it. I'm your host, David Stein. Today's episode, 437. It's titled "How to Live Like You're Already Retired."
If you're a longtime listener to the podcast, that phrase and title might sound familiar. It was the title of Episode 19, released in August 2014. At the time, nine years ago, our youngest daughter was in high school, our other son was in high school, and we had a son at university. The day that I recorded that episode, I had just dropped off our daughter for her first day of school. I drove out to our farm and recorded the episode, and I said the one piece of advice to my children is to live like you're already retired.
What Is Retirement?
Retirement is the freedom to pursue the activities we find most rewarding. When you think of somebody who's retired, they can wake up when they want and pursue whatever activities bring them happiness. Wouldn't we rather live in a manner today that brings us happiness, and in a manner that can be sustained for decades into our 70s and 80s, rather than put off our dreams until we're retired? I've thought about this a lot recently.
I was listening to a class by Joshua Sheats of Radical Personal Finance; I wanted to support him in a retirement class that he's doing, and he records it live, and it's hours and hours long. And I've been just listening to some of the recordings, and the first lesson is on obviating retirement, where you don't need to retire because you don't want to. And that's very much the same theme as living like we're already retired. Create a life we don't want to retire from.
Knowing What You Spend
In Episode 19 I discussed two aspects of living like we're already retired. The first is more mechanical; it's to have an income that is greater than our expenses. If that's the case, if you always are bringing in more income—and usually it's a combination of investments, work, side projects—that income mix can differ over time, but if it's greater than what we're spending, then we'll never run out of money.
And the only way to really do that to get started is to track what you earn and what you spend. I've been using Mint since January 1st, 2007. I was shocked how much we've spent since January 1st, 2007, on Mint. The top category was taxes, followed by home, which would include mortgages, followed by charity, shopping, and then travel.
On a monthly basis, I take the output from Mint and I put it into a spreadsheet. We do an annual budget, and so I put that month's expenditures into a spreadsheet, I calculate our net worth, and I look to see whether we are generating enough income that is greater than our expenses. And the idea is to never have to retire. I don't want to retire, and I have worked for the past nine years to structure a life that I don't have to retire from.
As a Money For the Rest of Us Plus member, you are able to listen to the podcast in an ad-free format and have access to the written transcript for each week's episode. For listeners with hearing or other impairments that would like access to transcripts please send an email to [email protected] Learn More About Plus Membership »