David shares how thieves recently tried to smash and grab his luggage from his car while he was still inside it. He then explores property crime trends, whether they are increasing or decreasing, and why.
Topics covered include:
How thieves have stolen luggage from the same gas station multiple times per day
What have property crime rates been in the U.S. over the past few decades and since the end of the pandemic
What are reasons property crime rises and falls
What is inventory shrink and how is it impacting retailers
What can we do to reduce the risk of being a crime victim
Show Notes
Chevron Oakland Hegenberger Rd—Yelp
Myths and Realities: Understanding Recent Trends in Violent Crime by Ames Grawert and Noah Kim—Brennan Center for Justice
Reported property crime rate in the United States from 1990 to 2021—Statista
Pandemic, Social Unrest, and Crime in U.S. Cities: Year-End 2022 Update—Council on Criminal Justice
CATALYTIC CONVERTER THEFTS NATIONWIDE SURGE ACCORDING TO NEW REPORT—Cision PR Newswire
What the data says (and doesn't say) about crime in the United States by John Gramlich—Pew Research Center
Oakland's crime rates are surging. Here's how they compare with S.F. and other Bay Area cities by Susie Neilson—San Francisco Chronicle
OAKLAND NAACP CALLS ON POLITICIANS TO CRACK DOWN ON CRIMINALS—California Policy Center
Money under the mattress: economic crisis and crime by Eleni Kyrkopoulou, Alexandros Louka, and Kristin Fabbe—SSRN
What Caused the Crime Decline? by Lauren-Brooke Eisen—Brennan Center for Justice
What's Behind All This 'Shrink'? by Jordyn Holman—The New York Times
Retail Theft Costs US Merchants Like Walmart and Target $100 Billion a Year—PYMNTS
Retailers battle nearly $100 billion in shrink by Jason Straczewski—National Retail Federation
2022 Retail Security Survey—National Retail Federation
US Retail Workers Are Fed Up and Quitting at Record Rates by Devin Leonard and Diana Bravo—Bloomberg
Episode Sponsors
Monarch Money – Get an extended 30-day free trial
Masterworks – invest in contemporary art
Masterworks Disclosure:
"net IRR" refers to the annualized internal rate of return net of all fees and costs, calculated from the offering closing date to the sale date. IRR may not be indicative of Masterworks paintings not yet sold, and past performance is not indicative of future results. See important Reg A disclosures: Masterworks.com/cd
Become a Better Investor With Our Investing Checklist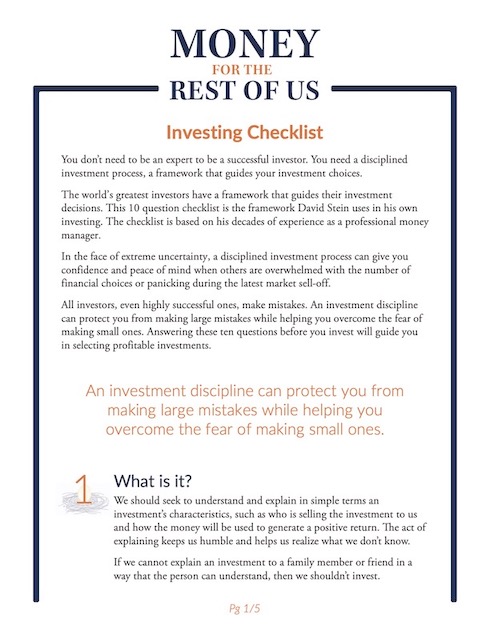 Become a Better Investor With Our Investing Checklist
Master successful investing with our Checklist and get expert weekly insights to help you build your wealth with confidence.
Related Episodes
363: Why Most Cities Thrive and What We Can Learn From Them
425: How Profits Motivate Change
444: Natural Disasters: Are They Truly Increasing?
Transcript
Coming Soon
As a Money For the Rest of Us Plus member, you are able to listen to the podcast in an ad-free format and have access to the written transcript for each week's episode. For listeners with hearing or other impairments that would like access to transcripts please send an email to [email protected] Learn More About Plus Membership »