How successful investing requires judgment and humility, not accurate forecasting ability.
Topics covered include:
Why pretending to know when you don't is harmful.
Why true experts admit their limitations.
Why David recently increased his allocation to stocks in his portfolio.
How the number of new retail brokerage accounts has exploded.
How buying the stock of the bankrupt company Hertz is a great example of how not to invest.
What is privilege and what should we do about it.
Show Notes
Knowledge of the Future by Howard Marks—Oaktee Capital
Epistemic Humility—Knowing Your Limits in a Pandemic – Erik Angner
Zhuangzi: The Essential Writings: With Selections from Traditional Commentaries translated by Brook Ziporyn
A Calendar of Wisdom: Daily Thoughts to Nourish the Soul, Written and Selected from the World's Sacred Texts by Leo Tolstoy edited by Peter Sekirin
Individuals Roll the Dice on Stocks as Veterans Fret by Gregory Zuckerman and Mischa Frankl-Duval—The Wall Street Journal
Bankrupt Hertz given approval for unprecedented share sale by Sujeet Indap—Financial Times
HEADLINE OF THE DAY, QUACK ATTACK by Phil Grant—Almost Daily Grant's 06.12.2020
Hertz Global Holdings, Inc. Prospectus Supplement
I Wanted to Know What White Men Thought About Their Privilege. So I Asked. by Claudia Rankine—The New York Times Magazine
Invisible insulation by Seth Godin
Episode Sponsors
Netsuite
Aspiration. To open your Aspiration Spend and Save cash management account, text DAVID to 64-000
Become a Better Investor With Our Investing Checklist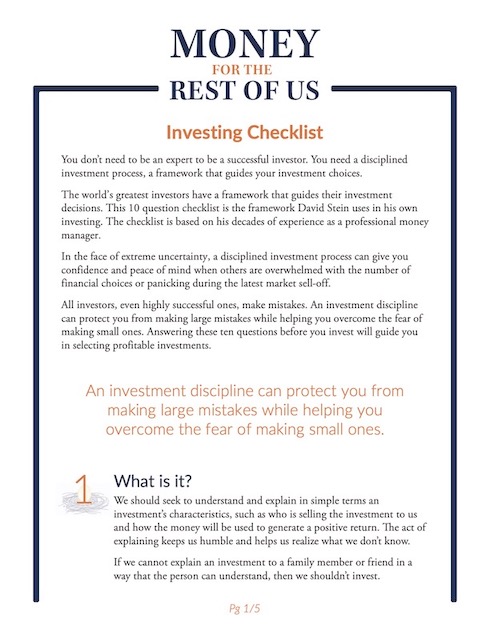 Become a Better Investor With Our Investing Checklist
Master successful investing with our Checklist and get expert weekly insights to help you build your wealth with confidence.
Learn More
Transcript
Welcome to Money for the Rest of Us. This is a personal finance show on money, how it works, how to invest it, and how to live without worrying about it. I'm your host, David Stein. Today is episode 302. It's titled "Investing is Not Knowing."
Last week LaPriel and I went camping for a few days and on Thursday we drove up a gravel road that followed Spring Creek. Spring Creek flows into the Salmon River. We went through many switchbacks. The views were stunning, the wildflowers were amazing. And we got to over 8,000 feet, but we got to a point where we could not go any further because of snow. That's always disappointing when you're out in the wilderness and you want to just go a little further and you can't because the snow hasn't melted yet.
A Market Crash
Before we turned back I decided to check the internet. Because when you're at 8,000 feet you can actually access some data on your phone. I happened to flip to Apple News and it said that Dow Jones Industrial average had plummeted 1862 points that day. 6.9%. Due to a spike in COVID-19 cases. That is not what I wanted to see. I felt bad.
The previous Friday I released the June 2020 investment conditions report on Money for the Rest of Us, Plus where I mentioned that investment conditions were red but on the cusp of turning yellow.
We rank investment conditions: red-bearish, yellow-neutral, green-more bullish. We had increased risk incrementally, in our model portfolios based on that investment conditions report. We added some preferred stock. And we added an allocation to dividend-paying Japanese and U.S. small company stocks.
Knowing Is Not Knowing
I felt like I'd been wrong. Like I made a mistake, which we feel often in investing. But in order to be wrong, you have to have made a prediction. To say something was going to happen and it didn't. But that's not investing is, at least to me. It used to be when I was an investment manager. I felt like my job was to accurately predict the future. And when things didn't go as I expected, I felt bad because I was wrong. And those feelings are still there even though I recognize I don't do that anymore.
Howard Marks in a recent memo wrote, "Investing is positioning capital to profit from future developments, but there's no such thing as knowing what future developments will be." We don't know.
The economist John Kenneth Galbraith said, "We have two classes of forecasters: those who don't know and those who don't know they don't know."
A similar quote, but much more ancient by Zhuangzi goes, "Not knowing is knowing. Knowing is not knowing. Who knows that knowing of non-knowing?" That's a little confusing quote. What he's getting at is there's a sense of humility when we know that we don't know and recognize that. The worst is to know you don't know and act as if you do.
Leo Tolstoy calls us out on that when he wrote in The Calendar of Wisdom, "Ignorance in itself is neither shameful or harmful. Nobody can know everything, but pretending that you know what you actually do not know is both shameful and harmful."
We have to have what Erik Agner, professor of philosophy at Stockholm University, labeled "epistemic humility." He called it an intellectual virtue. Here's his quote, "It is grounded in the realization that our knowledge is always provisional and incomplete. And that it might require revision in light of new evidence. True experts, unlike charlatans, express themselves in ways that mirror their limitations."
As a Money For the Rest of Us Plus member, you are able to listen to the podcast in an ad-free format and have access to the written transcript for each week's episode. For listeners with hearing or other impairments that would like access to transcripts please send an email to [email protected] Learn More About Plus Membership »