We explore four reasons to sell an asset with a focus on the Ark Innovation ETF, Bitcoin, and equity REITs. We also put the current stock market sell-off into historical perspective.
Topics covered include:
What are lousy reasons to sell an investment
What is a sell discipline
What are four good reasons to sell an investment
Why and why not to invest in the Ark Innovation ETF (ARKK)
Why growth stocks are getting crushed in the current market sell-off
How frequently does the stock market correct by more than 10%
Show Notes
Bitcoin Bounces Back After Falling Below $33,000 by Anna Hirtenstein—The Wall Street Journal
Selling Out, Memos From Howard Marks—Oaktree Capital Management
Here's Cathie Wood's advice to her fund's investors after a 58% sell-off in Ark's flagship ETF by Matthew Fox—Markets Insider
Episode Sponsors
Become a Better Investor With Our Investing Checklist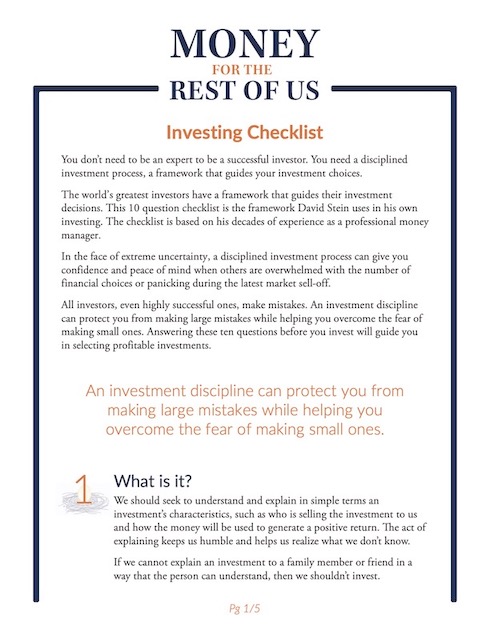 Become a Better Investor With Our Investing Checklist
Master successful investing with our Checklist and get expert weekly insights to help you build your wealth with confidence.
Related Episodes
291: How To Survive the Coronavirus (COVID-19) Shutdown
Transcript
Welcome to Money For the Rest of Us. This is a personal finance show on money, how it works, how to invest it, and how to live without worrying about it. I'm your host, David Stein. Today's episode, 372. It's titled, "When should you sell an investment?"
Sell Discipline
The Ark Innovation ETF (ARKK) launched in 2014. Ark Invest, the sponsor of the ETF, was founded by Cathie Wood. The Ark Innovation ETF gained 150% in 2020, yet it has lost close to 58% since February 2021. It's down 25% year-to-date. If you own the ETF, should you sell?
Bitcoin reached an all-time high of $69,000 for one Bitcoin on November 9th, 2021. That was shortly after we published episode 362 on Bitcoin ETFs. Now, this morning, Bitcoin is selling for $36,000 per Bitcoin. It fell as low as $33,000. That's a loss greater than 50%. It's the 8th time since Bitcoin was launched in 2009 that it has fallen more than 50%, and it's the third time since 2018, including last year, when Bitcoin fell 52% from April until July. Should you sell Bitcoin?
Equity real estate investment trusts gained over 40% last year. One of the mutual funds I own in the REITs space, the DoubleLine Colony Real Estate and Income Fund (DBRIX), returned 50% in 2021. Now REITs are down close to 10% year-to-date. Is it time to sell?
What about your house? Many of us—our homes appreciated 20% last year. Should we sell those?
It's part of our due diligence efforts in researching equity managers, hedge funds, and other investment professionals. We, as investment advisors, or when I was an institutional investment advisor, we would ask them about their sell discipline. That phrasing is interesting. We didn't ask them why they sold, we asked them what their sell discipline was, which suggests a thoughtful process for why they would sell one of their underlying investment holdings.
Don't Sell Purely on Emotion
Howard Marks is the co-founder and co-chairman of Oaktree Capital Management. They are one of the largest distressed securities managers in the world. He has been writing a regular memo to clients, and really to the world, for decades now. His most recent was on selling investments; when should we sell.
He pointed out some poor reasons for selling. Those reasons are emotion. We sell assets that have appreciated oftentimes because we're afraid they'll fall in price and we just want to lock in those gains, those profits because we're afraid they'll go away. The asset will fall, and somehow, psychologically, locking in that gain, capturing that profit—one, it feels great, it makes us feel like successful investors. But selling an investment purely to lock in the profit because we think those profits might go away is not a very good reason to sell an investment. Nor is selling an investment because it fell in price a good reason to sell.
When assets fall in price, we feel terrible; we feel like failures, and we fear that the investment will fall even more. That our regret will grow. But those are emotional reasons to sell, and we do, do that. I've done that. Because we're human. But there are better reasons to sell, and these themes come out in Marks' memo, and they're also what professional money managers that I interviewed would say for why they sold a particular security, as part of their sell discipline. And it's why I sell assets or at least try to. And not sell purely based on emotion.
As a Money For the Rest of Us Plus member, you are able to listen to the podcast in an ad-free format and have access to the written transcript for each week's episode. For listeners with hearing or other impairments that would like access to transcripts please send an email to [email protected] Learn More About Plus Membership »