The Federal Reserve just updated its policy tools. What impact could that have on inflation, interest rates and your investments.
Topics covered include:
Why is the Federal Reserve more transparent in its communication than it used to be.
What are the Federal Reserve's Congressionally mandated goals.
What are four economic developments that has caused lower inflation and motivated the Fed to adjust its strategy for achieving its goals.
Why inflation could be higher than the Fed's 2% target
What might the Federal Reserve do now that it has adjusted its strategy
What will it take for inflation to increase?
What can individuals do financially in a low return, low yield environment
Show Notes
New Economic Challenges and the Fed's Monetary Policy Review by Chair Jerome H. Powell—Board of Governors of the Federal Reserve System
Statement on Longer-Run Goals and Monetary Policy Strategy (Adopted effective January 24, 2012; as amended effective August 27, 2020)—Board of Governors of the Federal Reserve System
The Federal Reserve's New Monetary Policy Framework: A Robust Evolution, August 30, 2020 by Vice Chair Richard H. Clarida—Board of Governors of the Federal Reserve System
Current US Inflation Rates: 2009-2020—US Inflation Calculator
Fed's Elevation of Employment Goal Reflects a Changed World by Greg Ip—The Wall Street Journal
Tips from TIPS: Update and Discussions by Don Kim, Cait Walsh, and Min Wei—Board of Governors of the Federal Reserve System
Episode Sponsors
Become a Better Investor With Our Investing Checklist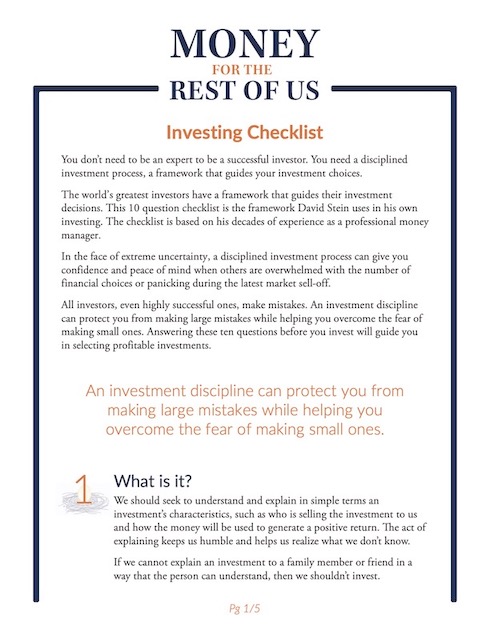 Become a Better Investor With Our Investing Checklist
Master successful investing with our Checklist and get expert weekly insights to help you build your wealth with confidence.
Related Content
295: Federal Reserve Insolvency and Monetizing the National Debt
309: Investments to Fight Financial Repression
382: Is A Famine Next? Food Inflation, Food Riots, and Investing in Commodities and Other Real Things
388: Will Quantitative Tightening Lead To Even Greater Financial Losses?
Transcript
Welcome to Money For the Rest of Us. This is a personal finance show on money, how it works, how to invest it, and how to live without worrying about it. I'm your host, David Stein. Today is episode 312. It's titled "What the Fed's new policy means for your finances."
Fedspeak versus Clarity
In January 2012 the U.S. Federal Reserve, the U.S. central bank, did something that it had never done before. The Federal Reserve Open Market Committee issued its first statement on longer-run goals and monetary policy strategy. That's often referred to as a consensus statement. Now, how is that remarkable, telling people what your goals are, what is the purpose of your organization? Well, prior to that, the Federal Reserve Open Market Committee, particularly under chair Alan Greenspan, was deliberately opaque, so that financial markets wouldn't overreact to whatever the Federal Reserve stated. This cryptic form of communication, never coming out and really saying what you're thinking, came to be known as "Fed speak", or "Green speak."
In 2007 on 60 Minutes Lesley Stahl interview Alan Greenspan. Stahl mentioned how Greenspan in public was inscrutable whenever Congress asked about interest rates. He resorted to indecipherable, Delphic dialect known as Fed speak. Greenspan responded, "I would engage in some form of syntax destruction, which sounded as though I were answering the question, but in fact had not."
We can contrast Fed speak with the Federal Reserve's 2012 consensus statement, which read:
"The Committee seeks to explain its monetary policy decisions to the public as clearly as possible. Such clarity facilitates well-informed decision-making by households and businesses, reduces economic and financial uncertainty, increases the effectiveness of monetary policy, and enhances transparency and accountability, which are essential in a democratic society."
Wow. Clarity facilitates great decision-making.
Why?
I thought about that this weekend. We had some friends over at our cabin to camp in our backyard. This couple has two children—five and two. They had never been camping before. These kids are on a set schedule. They go to bed at 7:30; their rooms are dark, with blackout curtains. They play white noise. And they did on this camping trip. A blackout tent. White noise.
The youngest son, after being there for a couple of days, it became pretty clear his favorite question was "Why? Why? Why?" That's what we want from the Federal Reserve—to explain what they're doing, and why are they doing it. And they have done a much better job of that. How refreshing it is to have clarity around our goals, our personal goals, our family goals, business, charitable goals.
As a Money For the Rest of Us Plus member, you are able to listen to the podcast in an ad-free format and have access to the written transcript for each week's episode. For listeners with hearing or other impairments that would like access to transcripts please send an email to [email protected] Learn More About Plus Membership »