There has never been this much money in the world. Now is the time to own real property.
Topics covered include:
How to buy something with Bitcoin
How cryptocurrencies are similar and different from fiat currencies
What is legal tender
Why there has never been this much money in the world
Why central banks can control interest rates but not inflation
What real property should investors own
Show Notes
The Power of Gold: The History of an Obsession by Peter L. Bernstein
IRS Virtual Currency Guidance Announcement 2014-21—Internal Revenue Service
Legal Tender Status—U.S. Department of the Treasury
India to propose cryptocurrency ban, penalising miners, traders – source by Aftab Ahmed, Nupur Anand—Reuters
Executive Order 6102—Requiring Gold Coin, Gold Bullion and Gold Certificates to Be Delivered to the Government by Franklin D. Roosevelt—The American Presidency Project
Total Circulating Bitcoin—Blockchain Charts
Federal Reserve statistical release: Factors Affecting Reserve Balances, March 18, 2021—United States Federal Reserve
Money Stock Measures – H.6 Release, March 23, 2021—Board of Governors of the Federal Reserve System
M2 Money Stock/Gross Domestic Product—Federal Reserve Bank of St. Louis
Monthly Budget Review: Summary for Fiscal Year 2020—Congressional Budget Office
A Fed With No Fear of Inflation Should Scare Investors by James Mackintosh—The Wall Street Journal
Biden Administration Officials Put Together $3 Trillion Economic Plan by Ken Thomas and Andrew Duehren—The Wall Street Journal
Turkey faces a currency crisis after Erdogan sacks his central banker—The Economist
Episode Sponsors
Become a Better Investor With Our Investing Checklist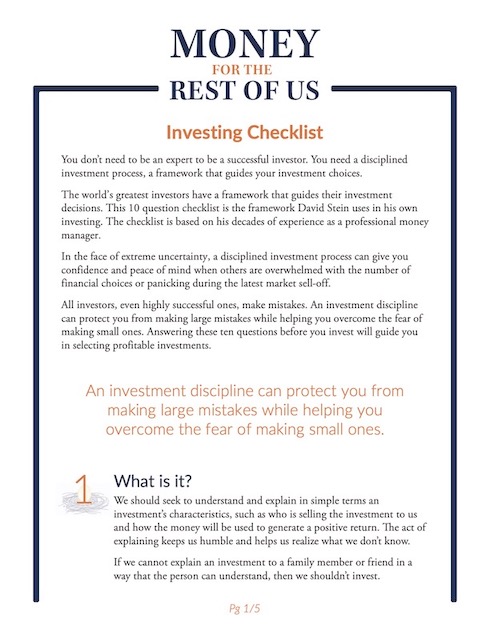 Become a Better Investor With Our Investing Checklist
Master successful investing with our Checklist and get expert weekly insights to help you build your wealth with confidence.
Related Episodes
295: Federal Reserve Insolvency and Monetizing the National Debt
316: Paper, Rocks, or Digits—What Makes the Best Money
322: Why Currency Exchange Rates Matter
382: Is A Famine Next? Food Inflation, Food Riots, and Investing in Commodities and Other Real Things
429: Which Inflation Protection Strategies Worked and Which Didn't?
Transcript
Welcome to Money For the Rest of Us. This is a personal finance show on money, how it works, how to invest it and how to live without worrying about it. I'm your host, David Stein. Today's episode, 336. It's titled "Own what is real."
Using Bitcoin to Buy a Watch
Almost 15 years ago I bought a Panerai mechanical watch, which I wear every day. I bought it so I could keep it for the rest of my life. There's no battery to change, and every 5–8 years I send it in to be cleaned and serviced. The watch is real, it's physical, it's beautifully made. It has scratches, nicks, patina. It had been eight years since I had it serviced; it was still working fine, but I decided to send it into Panerai to service the movement, the gears that make the watch work.
I took it to UPS, I ensured the package, I sent it two-day. That was last Thursday. It was supposed to arrive on Saturday. Then they said it was supposed to arrive on Monday, yesterday. Today it's Tuesday. The package has been in Goodyear, Arizona the entire time. I don't know if the watch has been lost, stolen. I went on the website; it now says it will arrive on Wednesday. I'm a little concerned, I like my watch.
I tried calling UPS. For ten minutes I went back and forth through different automated voice assistants. No one would ever pick up the phone. All I wanted was to talk to a real person. Somebody that would have a sense of empathy regarding my situation. Not that they would be able to solve it, but just to listen.
Last Saturday I decided that I wanted to get a second watch so that I could have a watch to wear when my other one is being serviced. I went to Oliver Smith Jeweler in Phoenix. I bought a second Panerai, a different model.
And this is where it gets interesting.
I paid with Bitcoin. Not in the sense I did early this year, when I sold Bitcoin, converted it to dollars, and then used it to purchase some replacement windows for our house here in Tucson. No, in this case, I actually paid with Bitcoin.
The jeweler emailed me an invoice via Coinbase, which had the Bitcoin address where I needed to send the Bitcoin. I copied and pasted the address on my Jaxx Liberty app, where I have some Bitcoin stored, and I sent it. About 15 minutes later, the transaction was verified, and I walked out with a brand new watch, that I paid for with digital currency, that has no intrinsic value. Useless digits.
The Best Forms of Money
Peter L. Bernstein, in his book The Power of Gold, mentioned that the best forms of money are rare, useless things, that are easily divisible. They're fungible. He wrote:
"Seen from the perspective of uselessness, the electronic blips on computer screens that comprise most of the money in the modern world are the best form of money. We have no other use for them. They are readily recognizable as money. They weigh a lot less than gold or even paper. They're easily transferable. They can be broken down into any amount we choose, from a penny to trillions of dollars and even beyond. They are as durable as we wish them to be, and they have a kind of magic that commands our respect."
It felt kind of magical to pay for a watch with Bitcoin. It didn't even seem real. Dollars and cryptocurrencies have some similarities. The Internal Revenue Service writes that virtual currency (cryptocurrency) is a digital representation of value that functions as a medium of exchange, a unit of account, and/or a store of value. That's the definition of money, a medium of exchange, a unit of account, a store of value. The IRS is saying virtual currency is a form of money. But they go on, "In some environments, it operates like "real" currency." What is it that they define as real? In this case, real currency for them is a currency that is legal tender.
As a Money For the Rest of Us Plus member, you are able to listen to the podcast in an ad-free format and have access to the written transcript for each week's episode. For listeners with hearing or other impairments that would like access to transcripts please send an email to [email protected] Learn More About Plus Membership »